The Wild West's best preserved ghost town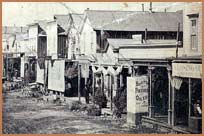 In 1859, prospectors chasing rumors of mineral wealth found gold east of the Sierra Nevada Mountains. Their discovery gave rise to
Bodie
, one of the West's wildest gold mining boomtowns. By 1880 the phrase "Badman from Bodie" described the town's rambunctious inhabitants, earning the community a reputation for violence that rivaled Tombstone, Deadwood and Dodge City.
T
oday Bodie is a ghost town
, preserved in a "state of arrested decay" by the California Department of Parks and Recreation as Bodie State Historic Park. Explore Michael Piatt's passion for research, a window to a once-vibrant town left frozen in time.
Above right photos: Bodie, 1880 (detail), courtesy Mono County Historical Society; Bodie State Historic Park, courtesy James C. Ritchie